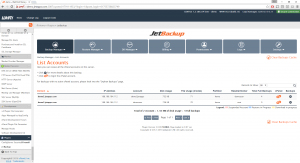 Backing up data is of the utmost importance when running a website, regardless of whether you have a reseller account yourself or are a client of one. Server crashes, accidental deletions, viruses, and malware are just some of the things that can lead to a total loss of data. Without proper backup, the data would just vanish into thin air. Fortunately, Jetapps.com has developed backup software that is now considered the leading backup solution for cPanel and WHM.
If you are a reseller, then you would be doing a great benefit for your clients if you offer a WHM backup all accounts feature as part of your service. Lots of hosting services offer backups, but most of them offer backup one account at a time, which is a long and tedious task that takes too much of your precious time. By using Jetapps.com's backup software, which includes a very useful WHM backup plugin, you will give yourself and your clients peace of mind when it comes to the preservation of their website content, should an unwanted situation occur.
Remote backups are very useful nowadays, especially for one with a reseller account. You can give your clients the option to back up their website data not only on your local server, but on a cloud such as Dropbox or Amazon S3. From there they can restore or download their data any time they want. The Jetapps.com software solution not only gives you this option but also allows you to pass it along to your clients, using their own cPanel accounts.
Scheduling periodical backups is another feature of JetBackup. The WHM auto backup feature allows you to choose what data to periodically back up and when to do it. This is important because, thanks to our busy everyday lives, we forget that we constantly make many changes to our websites and may even forget to back up after a major update. By scheduling automatic backups, you can be assured that your latest updates will always be backed up.
As a reseller, you also have the option to create paid or free services for your clients with the cPanel backup plugin, thanks to the WHMCS module. For example, you can limit backup accounts for your users to a certain number of gigabytes per account. If, let's say, they go over your set limit of 3 GB, then you can charge a certain amount for additional backup space over the limit. You are free to set your own "backup product" with the WHMCS module and link it to your client's account.
JetBackup has a very user-friendly GUI that will assits any user to perform backup jobs, downloads, and restoring files and data. cPanel accounts are listed, along with IP addresses, account names, disk usage, partitions, and other information all in one, easy to understand interface. All the various options are listed on the drop down menus. Try the JetBackup software now because it's a simple, yet highly effective tool for website backups.
Tags:
backup
,
cPanel